We at GM Racket Sports organize all kinds of padel tournaments, of varying duration, adapting to the level of each player as well as their availability and prior requirements. We will do everything possible to make your experience unique and think about repeating it with us.
Our reason for being is meaningless without your presence. Therefore, our DNA is impregnated with the values of honesty, transparency, empathy and professionalism in favor of our esteemed players.
Each tournament is different, with its own characteristics, and we will show it to you. Below, you can see the list of tournaments that we can organize as well as services associated with them:
Padel circuit in a format comprising of a group stage and then knockouts.
Organization of padel tournaments for companies.
Organization of padel tournaments for groups of friends (for example, due to the rapid growth of this sport, more and more people are deciding to celebrate their bachelor/bachelorette party with a padel tournament).
In-house organization of tournaments throughout the year.
Personalized streaming broadcasting.
Recording of matches for later viewing and analysis.
Inclusion of new technologies to squeeze the most out of your experience and get all the detail from the players.
If you missed any of the padel streamings of the finished tournaments, you can view them through our YouTube channel.
Below you can fin the calendar of our Padel Tech 2022 Circuit: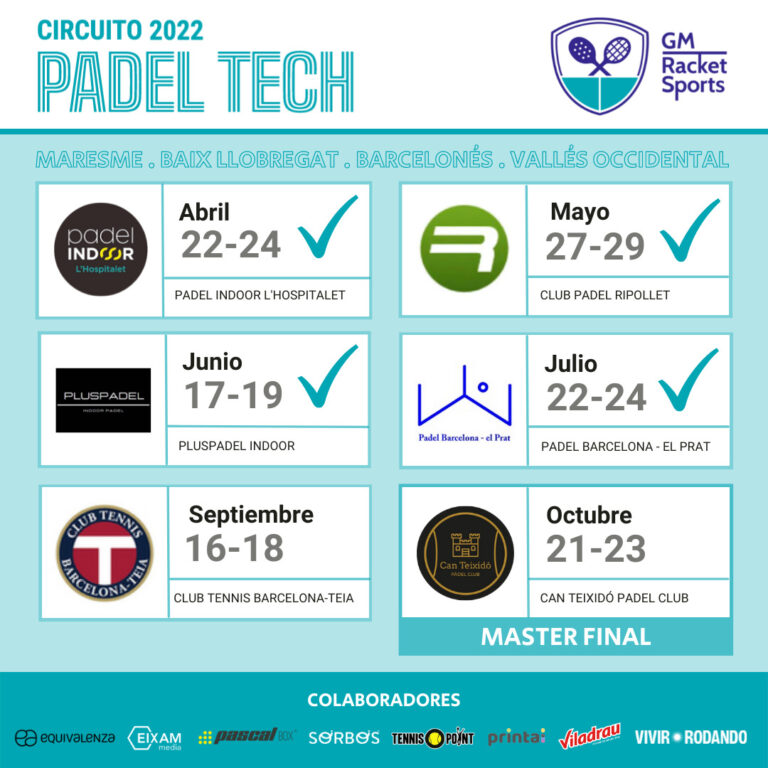 Our history is already endorsed by the tournaments previously organized by DG Sports.