After 5 tournaments played in 4 different regions (Baix Llobregat, Barcelonés, Valles Occidental and Maresme), the 2022 Padel Tech Circuit reaches the end of its 1st edition with the celebration of the Final Master.
From October 21, 2022 and until the 23rd of the same month, we will celebrate the Final Master of the 2022 Padel Tech Circuit at the facilities of the Pádel Can Teixidó Club – Alella (mar). Entries can be made until October 19 at 11:59 p.m.
Click on your desired category to register:
As in the rest of the tests, the Final Master will have 6 categories, 2 feminine, 2 masculine and 2 mixed (unless some of them cannot be completed) having in all of them the initiation and intermediate levels. A group phase will be played on Friday afternoon or Saturday (morning or afternoon) and a final phase on Sunday. In addition, each couple will play a minimum of 3 games of 40 minutes each (or 9 games, whichever comes first) unless the group is made up of 3 or 5 couples, so instead of playing 9 games, they would play to 12 or 6 respectively.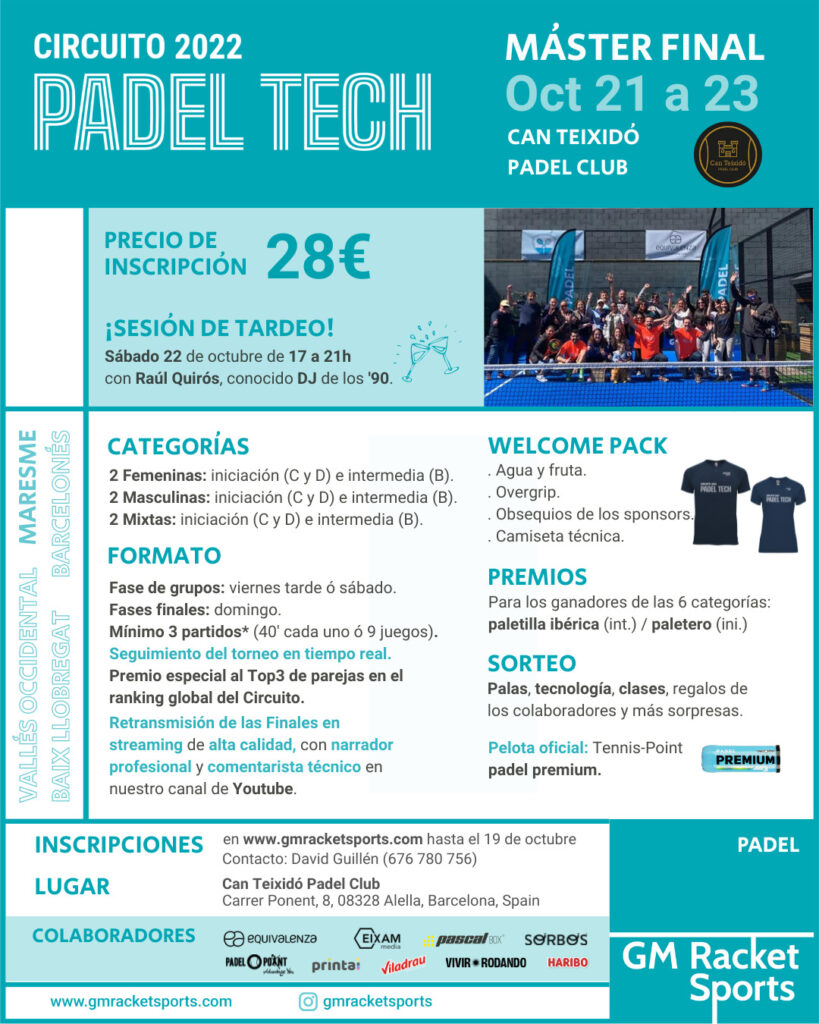 One of our goals is to make all players feel like an essential part of this Circuit. For this reason, personalized treatment is ensured for each of the contenders. In addition, for most of the finals, we will have a high quality live broadcast, with a professional narrator, technical commentator and through our Youtube channel. In this way, you will be able to be protagonists in the first person of said streaming, we cannot reveal some surprises but we can assure you that you will like it. And of course, your family and/or friends who want to see you play and cannot come to the club, will be able to follow you and support you remotely.
A welcome-pack will be delivered to each player and, in addition, a final draw will be held with gifts among all the participants who are physically present at the facility at that time.
Both registration (compulsory prior simple registration) and payment (optional) will be made through the Competize platform or by contacting the Tournament Director. Through it, you will be able to follow the development of each test with updated results, classifications and much more live. Therefore, payment can be made after registering for the tournament on the Competize platform itself or the day you come to play and the welcome-pack is given to you (payment only by card, not cash).
You can consult the rest of the regulations and rules in the links above.
Good luck and enjoy padel under the flag of fair-play!